Jim became an entrepreneur back in 1985, repairing commercial restaurant equipment, professional janitorial equipment — and sometimes even residential vacuum cleaners!  He obviously had a knack for understanding and fixing electrical and mechanical devices and tools and knew it would be his life's ambition to utilize that gift in his own enterprise.
During the early years, he needed help with accounting and bookkeeping and Diane, his wife, was his best choice. She had taken taxation courses and "working the numbers" was a natural for her. Together, they formed a formidable duo, building up the business and taking on commercial laundry equipment repair. In short order, it was evident that the commercial laundry world had a void of good quality service techs with honesty and integrity and the Youngs began to take on more of that kind of repair work.
There was such an overwhelming demand that Jim and Diane soon focused solely on the laundry equipment repair business. In 1996, JYL (Jim Young Laundry) was formed.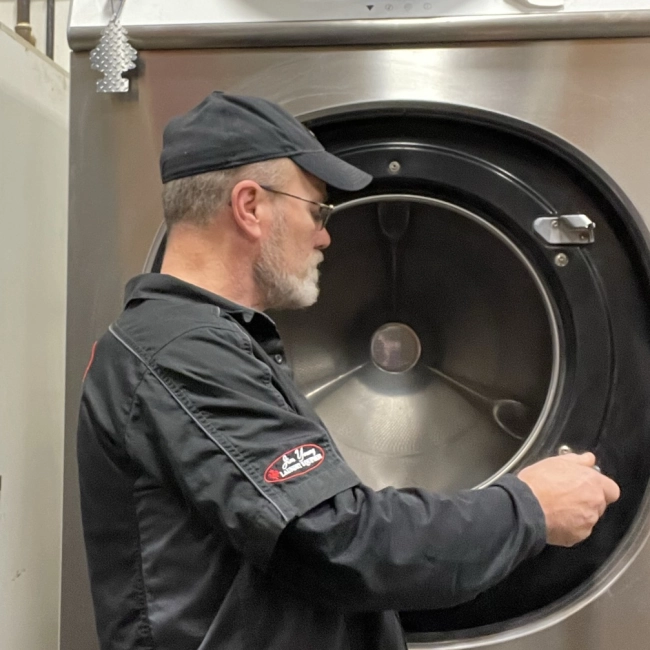 A few years back, Jim and Diane's two sons, Jay and Ryan, joined in to help the family business and things began to really take off! They soon acquired their own exclusive line of Tolon commercial laundry equipment. Rounding out the line, they also took on Alliance, Maytag, and Commercial LG.
In an effort to become more of a one-stop shop, JYL began to provide chemical products and services. In fact, they've become so popular with the chemical suppliers who are competitors that they all have hired JYL to do service work on their own products and machines! They've also gone so far as to hire JYL to install and program the complete laundry chemical pumps for many of their customers.
Jay is the commercial/industrial technician. He can rebuild machines from 16 to 600 lb. capacity, with the actual machine weighing in at over 10,000 pounds! He runs the shop and service department of JYL.
Ryan handles more of the sales side of the business and is a Commercial Journeyman Appliance Technician. He's a huge help with Mom and Dad's business end of things.
JYL has recently brought on Wayne as an apprentice technician. Wayne has a vast knowledge in plumbing and tinsmith work. He's been helping the boys do installations for many years already and it was a natural process to have him join the JYL family.
In the near future, it's hope that Trey, the Young's grandson, will fulfil his dream and also come work with the family full-time! Growing up in the business, he's been in the shop and on the jobs for many years already.
This small family company is getting larger every year — and there's no plateau in sight for this enterprise that's built its reputation on quality work and honesty. Every year the customer base grows as more owners of commercial laundry equipment discover what JYL can bring to their operations.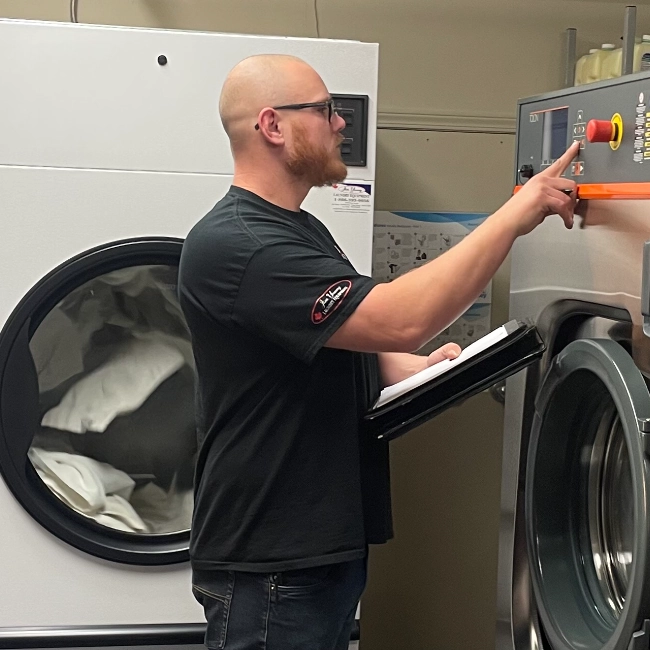 Seeing a need for the company's expertise beyond northern Alberta, the company has hired technicians to handle clients in Saskatchewan, British Columbia and Manitoba. Based on their reputation and past success, Tolon has granted JYL exclusive rights to their product line throughout the whole of western Canada!
In addition to the expansion into neighbouring provinces, JYL has also been working and growing in the drycleaning industry, helping BCL equipment with installations and service. BCL is a premier drycleaning specialist working in western Canada.
The success of JYL in the Canadian laundry equipment industry is mainly due to the excellent word-of-mouth references from years of happy customers.